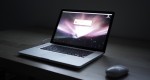 So there are a couple of computers idling around here. I all of them gave names of planets and have come to the point where I have to use names of stars because I ran out of planets. Here I have a list of all the devices that I am using on a more or less regular basis. I left out smartphones, server in data centers or not anymore working computers at home.
Earth
My old, but still working home file server which runs Ubuntu. It has three internal HDDs and offers a total of approx. 1,5TB of storage space. I don't like the really loud fan but I live with it.
Mars
An old Sony Vaio notebook which is not really in use anymore but still works. It runs Windows XP and is often used by others in the living room for just browsing the web. However, I don't use it anymore.
Pluto
A 15″ MacBook Pro (first generation unibody) which is used by my dad on a daily basis. I just use a remote ssh connection occasionally to fix things or install new software. Yes Pluto is actually not a planet anymore (since 2006), however. I had a Netbook (Saturn) at this time and no other planet name was left.
Jupiter
My main notebook. This is a 15″ MacBook Pro (late 2009) with 8GB of RAM but still a really slow 320GB HDD. I am probably replacing the HDD with a SDD quite soon. I use this MBP every day at university or at home. I am doing my photo editing, programming and daily office work with this computer.
Venus
Not my computer, but my girlfriends. It is a Fujitsu Siemens Windows 7 notebook which I personally do not use at all.
Merkur
My HTPC just beside my TV. It is a Zotac Mag Mini system which runs with Ubuntu with MythTV. It records TV series and movies. I use it also as a small web server for developing small applications.
Uranus
A 23″ iMac actually used by my mum and not quite often by myself. I however often ssh in and install stuff.
Neptun
A 15″ ASUS notebook from 2006. It is running Windows XP, standing around somewhere and not used anymore. It was my main computer for quite a long time before I switched to my MBP (jupiter).
Genua
A 27″ iMac at work I already had to name after an astroid and not a planet, since there are no names left and this is actually not my personal computer.